_
_
The Prophetic Spirituality of Elizabeth of the Trinity
The course will explore the main themes of Teresa's life and spiritual teaching. By allowing Teresa to speak to us through her own words, it will provide participants with an insight into her character, her concerns, and the central themes of her.
This is one of our courses that aims to open up the rich treasury of the venerable Carmelite tradition with its 800-year history. From this tradition has emerged a host of great saints and writers who have enriched the Church and guided countless pilgrims along the road of prayer and in their quest for deeper intimacy with God. In these courses the key contributions of Carmelite saints and mystics – Teresa of Avila, John of the Cross, Brother Lawrence of the Resurrection, Thérèse of Lisieux, Elizabeth of the Trinity and Edith Stein – with regard to prayer and growth of the interior life are explored in a way that encourages practical appropriation of the disciplines they illuminate so compellingly in their writings: solitude, silence, community, contemplation, presence, prayer, listening, discernment, hospitality and integration.
There will be reflection questions for each session where participants will be able to send their responses to the instruction, who will respond.
There will be video content and two 30 minute presentations for each lesson.
Course elements will be added weekly but you will be able to work at your own speed.
All material will be available for 6 months.
The Prophetic Spirituality of Elizabeth of the Trinity
In this new 10 week course you'll learn who Saint Elizabeth of the Trinity was, why her spirituality continues to be relevant for today, and the main themes in her writings. Drawing on Elizabeth's experience, this course will provide you with a systematic study of the foundational means and principles for an authentic response to Christ's invitation and calling to deeper conversion and intimacy, as well as participation in his mission.
In this new 10-week course you will learn about…
The formative influences on Elizabeth
Elizabeth's life and legacy
Elizabeth's prophetic spirituality and why it's so powerful
The power of the sacraments in Elizabeth's life and spirituality
The transformative power of scripture in Elizabeth's experience
How Elizabeth can help us appreciate silence and contemplative prayer
How Elizabeth can help us engage the culture of today
Elizabeth's relationship with the Blessed Virgin Mary
Elizabeth's Trinitarian spirituality
How Elizabeth's teaching can help us to respond and be perfectly conformed to Christ Crucified
THE PROPHETIC SPIRITUALITY OF ELIZABETH OF THE TRINITY
Lesson 1
BIOGRAPHICAL ANALYSIS OF THE SPIRITUALITY OF ELIZABETH OF THE TRINITY
UNIT 1– A STARTLING WITNESS OF JOY
SECTION 1 – A PROPHETIC VOICE FOR TODAY
SECTION 2 – ELIZABETH'S UNDERSTANDING OF HER CARMELITE VOCATION
UNIT 2 – THE LIFE OF ELIZABETH OF THE TRINITY
Lesson 2
CARMELITE FORMATIVE INFLUENCES ON ELIZABETH OF THE TRINITY
UNIT 3– ELIZABETH'S SPIRITUAL FRIENDSHIPS – TERESA OF AVILA AND THERESE OF LISIEUX
UNIT 4– ELIZABETH'S SPIRITUAL FRIENDSHIPS – ST JOHN OF THE CROSS
Lesson 3
SO GREAT A CROWD OF WITNESSES
UNIT 5– SOME FIGURES OF INSPIRATION IN ELIZABETH'S EARLY LIFE
UNIT 6– SOME FIGURES OF INSPIRATION IN ELIZABETH'S FINAL YEAR
Lesson 4
A LIGHT FOR MY PATH
UNIT 7– READING SCRIPTURE WITH ELIZABETH
UNIT 8– ELIZABETH AND TRANSFORMATION INTO THE CRUCIFIED CHRIST
Lesson 5
SPACE FOR AN ENCOUNTER
UNIT 9– THE MYSTERY OF THE TRINITY IN ELIZABETH'S WRITINGS
UNIT 10– THE CENTRALITY OF SILENCE AND SOLITUDE
Lesson 6
THE EXPERIENCE OF PRAYER
UNIT 11– PRAYER IN THE LIFE OF ELIZABETH
UNIT 12– THE VIRGIN MARY IN THE EXPERIENCE AND THOUGH OF ELIZABETH
Lesson 7
THE PRAISE OF GOD'S GLORY
UNIT 13 – ELIZABETH'S LITURGICAL SPIRITUALITY
UNIT 14 – ELIZABETH'S SACRAMENTAL SPIRITUALITY
Lesson 8
A CHOSEN RACE AND A ROYAL PRIESTHOOD
UNIT 15– ELIZABETH'S APPROACH TO THE PRIESTHOOD
UNIT16– ELIZABETH AND THE LAY VOCATION
Lesson 9
THE WELLSPRING OF GOD'S INFINITE LOVE
UNIT 17– PRAYER TO THE TRINITY (HER MAJOR WRITINGS I)
UNIT 18– LET YOURSELF BE LOVED (HER MAJOR WRITINGS II)
Lesson 10
HOLINESS FOR ALL
UNIT 19 – THE HIDDEN MYSTERY OF GOD'S CHOICE (HER LAST RETREAT)
UNIT 20 – BECOMING PROPHETIC WITNESSES TO CHRIST
Course Instructor:
Your course Instructor is Heather Ward, OCDS, BA, M.Ed., PhD
Heather is a Carmelite with many years of experience in spiritual guidance and serves as a formator for the Secular Order in the UK. She teaches a number of modules on Carmelite spirituality for the Carmelite Institute of Britain and Ireland (CIBI) and is also a member of its Academic Board. Heather is part of the team that runs the Spiritual Direction Training Programme of CACS.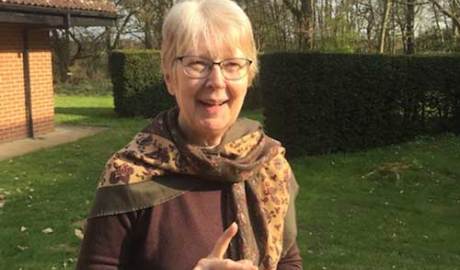 Price: £270
By continuing you will be taken through to our payment platform which may require you to register and provide further details